Image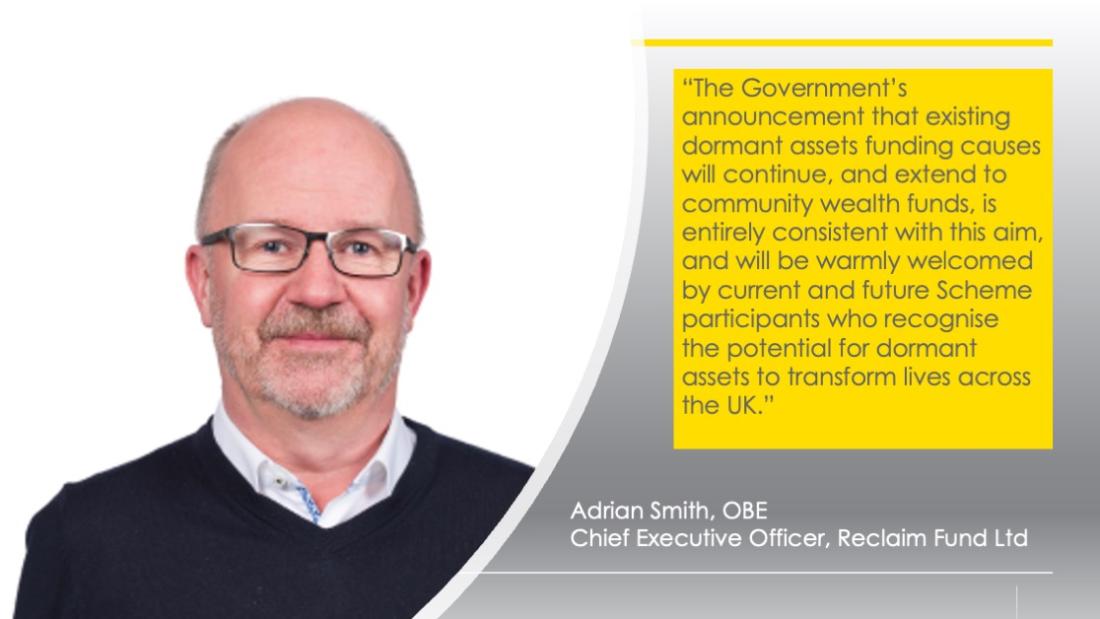 RFL Statement on Government Response to Spend Consultation
Image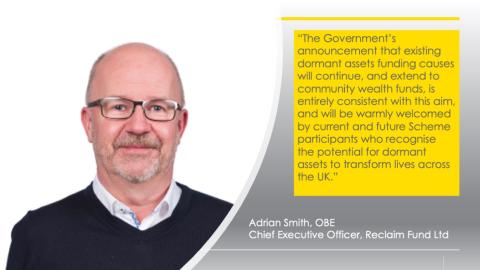 RFL's statement in response to the Goverment's announcement on the dormant assets spend consultation in England
RFL welcomes the Government's response to the dormant assets spend consultation, which has clearly and sensitively incorporated the views expressed by current and future industry participants in the Dormant Assets Scheme ("Scheme"), and the wider population of over 3,300 individuals and organisations who have engaged in the consultation. We particularly welcome the commitment of up to £76 million to help address the challenges faced by many of the UK's most vulnerable communities during the cost of living crisis.
Over the past 12 years, thanks to the 40 banks and building societies who participate in the Scheme, RFL has been able to transfer £892m to dormant asset spend organisations. Every day, this money transforms lives, through initiatives in financial inclusion, youth and social investment. The Government's commitment to continued funding in these areas will provide welcome assurance to Scheme participants, many of whom choose to participate as these causes are aligned with their social responsibility priorities. In particular, current and future participants have been overwhelmingly supportive of financial inclusion as a future spend priority, and many will be encouraged by the Government's specific reference to financial education.
The addition of a fourth dormant assets spend priority, community wealth funds, is an exciting development. It closely aligns with both existing spend priorities, and current and future participants' ambitions to build and support strong communities. The design and delivery of a new community wealth fund will enable dormant assets funding to be channeled directly to local communities, allowing them to build greater resilience and tackle the challenges that prevent so many people from fulfilling their potential and ambitions.
The Government's announcement on future dormant assets funding comes at a particularly important time as RFL expands the Scheme to dormant assets in new sectors. Expansion of the Scheme to new sectors could result in nearly £900m additional dormant assets funding to good causes across the UK. The Scheme will be welcoming dormant insurance and pensions assets in Spring 2023, and investments and wealth management, and securities (shares in UK plcs) during the course of the year.
We are confident that companies in new and existing sectors will recognise the significant value of Scheme participation, both for the consumers who are guaranteed the right to reclaim the value of their assets at any time, and the good causes that benefit from dormant assets funding. The more companies that choose to participate, the greater the number of consumers who are reunited with their dormant assets, and the higher the value and impact of dormant assets funding will be, both on existing causes and the new community wealth fund.
"The Dormant Assets Scheme has always been about people: protecting the interests of consumers by ensuring the perpetual right of reclaim, and harnessing dormant assets funding to empower individuals and communities to achieve their potential. The Government's announcement that existing dormant assets funding causes will continue, and extend to community wealth funds, is entirely consistent with this aim, and we hope will be warmly welcomed by current and future Scheme participants who recognise the potential for dormant assets to transform lives across the UK."
Adrian Smith, OBE, Chief Executive, Reclaim Fund Ltd
For further information, please contact:
Helen Boyd
T: 01270 660363   M: 07775 602259