Image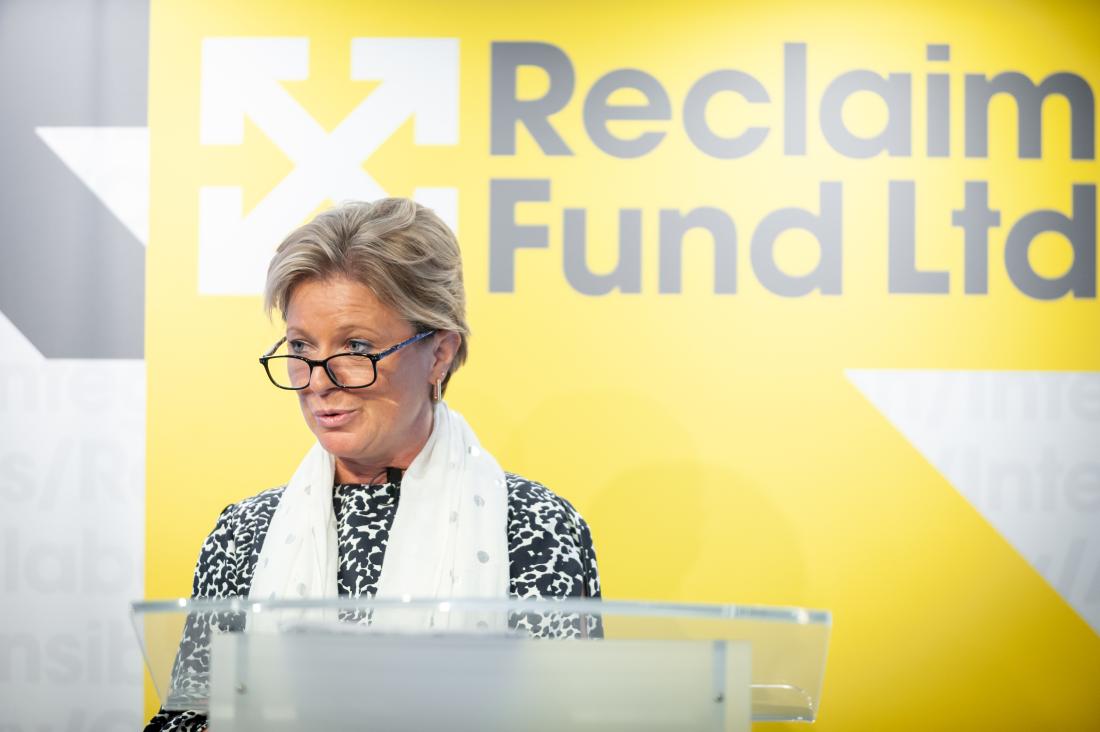 Jane Hanson CBE's term as Chair of Reclaim Fund Ltd comes to an end
It is with sadness and gratitude that we say farewell to Jane Hanson CBE as Chair of Reclaim Fund Ltd as her term of office comes to an end. Since 2011, Jane has played an integral role in our organisation, guiding us through our formative years and leaving a fantastic legacy in RFL and the Dormant Assets Scheme.  
A Fellow of the Institute of Chartered Accountants with over 30 years' experience in financial services, Jane joined the Board in 2011 and served as Chair of the Audit and Risk Committee, prior to being appointed as Board Chair in 2014.  
Under Jane's stewardship, RFL has thrived, with foundations in strong governance and a culture of collaboration and engagement both within our Board and across the wider dormant assets ecosystem. Not only has Jane helped to crystallise the values and principles that have distinguished RFL since its early days, but she has successfully guided our move to becoming an arms-length government body, and overseen the expansion of the Scheme.  
Her vision and guidance have enabled RFL to achieve a reach and impact far beyond what was originally expected, with almost £900 million distributed to social and environmental initiatives across the UK, making a genuine difference in the lives of countless individuals and communities.  
Adrian Smith OBE said:
"We extend our deepest gratitude to Jane for everything she has done for RFL. Her legacy of strong governance, an engaged and effective Board, and a dedication to positive impact will forever be embedded in our organisation. We wish Jane the best of luck in her future endeavours." 
Jane Hanson CBE said: 
"During the year ahead, I will be supporting and celebrating every forward step from a different vantage point, as I retire from the RFL Board. 

I will do so with great pride, not only in everything RFL has achieved to date and is set to achieve in the years ahead, but also in having played a part in the development of a unique and well respected Reclaim Fund, enabling the private and public sectors to work together towards making - in many cases - a life-changing difference to so many of the charities' beneficiaries. 

I know my successor will inherit a stable and robust organisation, overseen by a passionate, values and shared ethos-driven Board and staffed by a team who care deeply about their responsibilities as custodians of dormant assets and the significant difference they make to communities across the UK." 
As of 11th July 2023, Lawrence Weiss becomes our new Chair. We look forward working alongside Lawrence during this exciting chapter for RFL as we continue the Scheme expansion journey. We are delighted that we will continue to work with Jane in her capacity as Chair of the Dormant Assets Expansion Board.
Press Contacts
For further information or interview, please contact:
Helen Boyd, Chief Operating Officer, Reclaim Fund Ltd
T: 01270 660363   M: 07775 602259  
E: helen.boyd@reclaimfund.co.uk
E: dormantassets@reclaimfund.co.uk